PUFF PASTRY TARTS WITH LEMON CURD, BLUEBERRIES AND 'COFFEE & DESSERT ROSE SPRINKLE'
July 27, 2022

LEMON & 'PEAR CIDER RIM'- INFUSED GRANITA
July 27, 2022
Prep Time: 15 minutes
Cook Time: 40 minutes
Serves: 4-6
Ingredients:
1 onion, cut into large chunks
1 bunch asparagus, trimmed and chopped into thirds
1 zucchini, sliced into planks and roughly chopped
½ eggplant, sliced into rounds and quartered
4 mushrooms, roughly chopped
2 tsp Kawartha Spice Vegetable Rub
Sea salt and pepper, to taste
Method:
Preheat oven to 425 F
Add pasta to large pot of boiling water and cook according to package directions.
Grease 2 baking trays with 1 Tbsp oil. Slice off the bottom of the head of garlic, and rougly chop all vegetables.
Drizzle with remaining olive oil, salt and Kawartha Spice Vegetable Rub. Toss to coat evenly.
Roast 20 minutes, flipping halfway.
Remove vegetables once browned, except for the red pepper. Continue to roast red pepper until skin in charred, approximately 20 minutes.
Squeeze garlic bulbs out, and mash together with ¼ tsp olive oil, lemon juice, and salt and pepper.
Remove red pepper from oven, and peel once cooled. Roughly chop.
Toss pasta with all vegetables and garlic paste. Sprinkle remaining 1 tsp Kawartha Spice Vegetable Rub, drizzle with lemon juice to taste and toss to combine.
Serve warm or cold.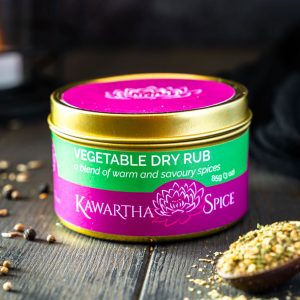 Recipe Tested by Kawartha Spice Co. * Photo of Pasta Salad by Kawartha Spice Co. * Product Photo by thefoodstudio.ca