PISTACHIO ROSE CHOCOLATE BARK
February 12, 2022

LEMON SPONGE CAKE WITH LEMON GLACÉ ICING
May 1, 2022
Prep Time: 20 minutes
Cook Time: 90 minutes
Serves: 4-6
Ingredients:
Clay Pot Mesquite Chicken
1­- 3 1/2 to 4 lb whole chicken
1 medium onion, chopped
1 lemon, quartered
1 small handful of parsley, roughly chopped
olive oil
1 1/2 Tbsp Kawartha Spice Mesquite Dry Rub, or to taste
salt and pepper, to taste
Chips and Veg Dip Seasoned Roasted Vegetables
1 med head cauliflower, broken into florets
2 large potatoes, chopped
6 large shallots, peeled and halved
1 1/2 Tbsp Kawartha Spice Chips and Veg Dip, or to taste
salt and pepper, to taste
Method:
Soak your clay pot in cold water for 15 minutes. Pat dry.
Stuff cavity of chicken with onion, lemon, parsley, salt and pepper.
Coat chicken with olive oil then season generously with 1 1/2 tablespoons Mesquite Rub, making sure to cover all areas.
Put clay pot in COLD oven and heat to 425 F.
Cook for roughly 90 minutes taking lid off in the last 10 to ensure browning of bird. Let rest for 10 minutes then serve.
Combine all ingredients for vegetables in a large bowl and toss to evenly coat.
Put vegetables on 1 large or 2 small baking sheets and roast at 400 – 425 F for roughly 40-45 minutes. Toss at least once to ensure even cooking. Towards the end of cooking turn oven down to 375 F if the veggies are browning too quickly.
Use any vegetable of your choosing in this recipe but be sure to add those that cook quickly towards the end so all vegetables are cooked properly!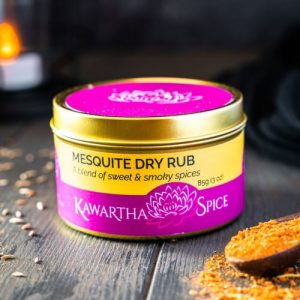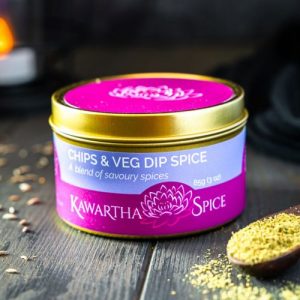 Recipe tested by Carol Turner @carolturner9319 * Photo of Chicken and Vegetables by Carol Turner * Product Photo by thefoodstudio.ca