SALMON–BAKED / PAN FRIED / BARBEQUE
December 13, 2021

COFFEE AND DESSERT ROSE SPRINKLE
December 13, 2021
Prep Time: 20 minutes
Cook Time: 60 minutes
Serves 4-6
Ingredients:
1 medium green bell pepper, chopped
4 Tbsp Kawartha Spice Cajun Dry Rub
1 14 oz. can diced tomatoes
227 g each of shrimp, white fish cubed, scallops, calamari
Method:
Preheat oven to 350 F
In a large, deep skillet over medium-low heat, melt butter, add flour. Cook, stirring constantly, until a dark caramel colour, about 10 minutes.

Add onions, peppers, celery, and stir until softened, about 5 minutes more. Stir in garlic and sausage, then season with Cajun seasoning, and salt to taste.

Stir in diced tomatoes, and vegetable broth and bring to a boil. Reduce heat to low and simmer until thickened, stirring occasionally, about 1 hour.

Bake seafood, seasoned with Cajun Dry Rub at 350 degrees for 15 minutes. Once shrimp is pink and cooked through, taste and adjust seasonings. Stir in green onions, reserving some for garnish.

Serve spooned over rice, or eat as a stew.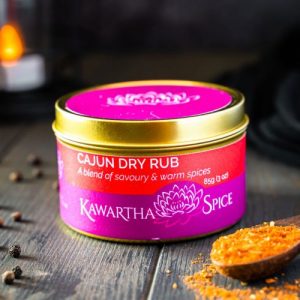 Recipe tested by Kawartha Spice Co. * Photo of Gumbo by Kawartha Spice Co. * Product Photo by thefoodstudio.ca