PEAR AND VANILLA GIN FIZZ
January 27, 2022

CARAMELIZED PUMPKIN SPICE CAKE
February 3, 2022
Reprinted with permission from Pierro's KTCHN
Prep Time: 25 minutes & overnight
Cook Time: 30 minutes
Serves: 6
Ingredients:
Savoury Waffles
2 c. all purpose flour
1/2 tsp salt
2.5 c. buttermilk
2 eggs
2/3 c. neutral tasting oil
1/2 cups any cheese, shredded
2 tsp Kawartha Spice Cajun Dry Rub
3/4 tsp baking soda
1/4 c. yellow corn meal
Chicken Marinade
2 c. buttermilk
2 tsp Kawartha Spice Cajun Dry Rub
2 tsp salt
3 serrano peppers
2 garlic cloves
1/4 c. cooking oil
10 bone-in, skin-on chicken thighs (can also use boneless)
Chicken Breading
1 c. flour
1/3 c. cornstarch
2 tsp Kawartha Spice Cajun Dry Rub
1 tsp salt
‍Spicy Honey Maple Syrup
1/2 c. maple syrup
2 Tbsp honey
2 tsp cayenne pepper
sriracha sauce, to taste
Method:
Chicken
In a blender, blend serrano peppers, garlic cloves and oil. Mix in buttermilk, and salt to taste.
Marinate chicken in buttermilk mixture 12 hours, or up to overnight.
Heat about 1 inch of oil in a pan.
While oil is heating mix breading ingredients.
Bread chicken.
Fry chicken until golden brown.
Put it on a rack to drain once cooked. Do not put it on paper towel. It will get soggy!
Waffles
Warm Waffle Iron.
Combine dry ingredients in a bowl, whisk together and set aside.
In another bowl mix wet ingredients and whisk together.
Add wet to dry ingredients and mix until smooth.
Once smooth fold in the cheese of your choice.
Once iron is warm make your waffles.
Spicy Honey Maple Syrup
Combine all syrup ingredients in microwave safe bowl or small pot.
Heat in microwave or pot for a couple minutes and remove from heat.
Set aside and allow to cool.
Assemble and garnish to taste; green onions shown above.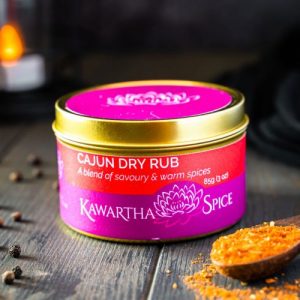 Recipe by Pierro's KTCHN * Photo of Chicken and Waffles by Pierro's KTCHN * Product Photo by thefoodstudio.ca