STRAWBERRIES AND FRUIT DIP
January 12, 2022

PEAR AND VANILLA GIN FIZZ
January 27, 2022
Prep Time: 15 minutes
Cook Time: 40 minutes
Serves: 4-6
Ingredients:
6 eggs
¼ c. cream
1 ½ c. grated cheese
1 gluten-free pie crust
1/2 red onion, sliced in rounds
6 shitake mushrooms – sliced thinly
1 potato
2 Tbsp Kawartha Spice Caesar Cocktail Rim
1 carrot cut in rounds
8 cherry tomatoes
3 Tbsp extra virgin olive oil
2 tsp salt, or to taste
3 Tbsp green onions
pickles – cucumber and onion (optional garnish)
sesame seeds (optional garnish)
METHOD:
Preheat oven to 325 F
Cut potato in rounds and boil in hot water for 10 minutes. Drain and let cool.
Beat eggs with cream, add Kawartha Spice Caesar Cocktail Rim, and salt to taste.
Heat oil over medium-low heat. Sauté onions and mushrooms. Let cool.
Sprinkle cheese to cover bottom of pie crust.
Add cooled onions, mushrooms, potatoes to egg mixture – allowing all to cool prevents eggs from starting to cook. Add salt to taste.
Sprinkle green onions, then top with remaining cheese.
Bake for 30-40 minutes.
OPTIONAL GARNISH/SIDE:
Sauté carrots and tomatoes in 1 Tbsp olive oil over medium-high until softened and slightly charred.
Sprinkle sesame seeds on carrots and tomatoes.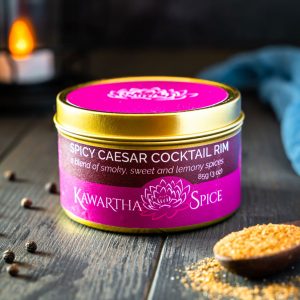 Recipe tested by Kawartha Spice Co. * photo of Quiche by Kawartha Spice Co. * Product Photo by thefoodstudio.ca