True liberation is found in moments of pleasure. Where there is joy there is room for self-expression, for love, for expansive thinking. In Bon Appétit's interview series "Person of Interest," author and social justice activist adrienne maree brown says this: "forging more space for your pleasure takes space away from repression/oppression and creates a reverberating effect that encourages others to do the same."[1] And so as we feel the liberation that Spring brings—the fleeting sweetness of cherry blossoms and magnolia trees in bloom, songbirds, and young green leaves everywhere—we can look to pure aesthetic pleasures that exist for no other reason but exuberance, in nature as in food and drink. Enter: the cocktail rim.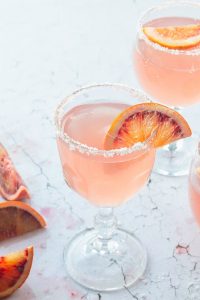 To properly bejewel your cocktail, into a saucer pour two tablespoons of a liquid that compliments your drink. Holding the stem of the glass, twirl the outside edge through. Then in a second saucer housing two tablespoons of your rimming powder of choice, twirl through again. Use a slightly moistened tissue to clean off any flakes inside the glass. Some choose to rim only half the glass, to afford some flexibility and freedom to the drinker.[2]
The first rimmed cocktail was adorned with sugar, around 1855 by New Orleans bartender Joseph Santini at his bar Jewel of the South: "Santini's elaborate Brandy Crusta caught the attention of Jerry Thomas, a bartender who featured it in the first bar guide ever published, in 1862."[3] In "The Complicated Appeal of the Rimmed Cocktail Glass," Wayne Curtis says this about the Brandy Crusta: "The name is likely from the fact that the sugar forms a crust on the glass, A more pleasing, if speculative etymology would link it to the ancient Roman custom of adorning the rim of a cup with removable bling that was soldered or attached with rivets. This was called a crusta."[4] Detractors of the sugared rim feel that it skews the balance of the drink. To this point, Beverage Director at NoMad Bar in New York, Nathan McCarley-O'Neill, says: "I think drinks have shifted towards more ingredient-focused views […] where the drink is built upon each individual ingredient. Usually, this will include syrups, cordials and liqueurs, which contain sugar, removing the need for a sugar rim." He concedes though that it's a "matter of pairing the sugar with the right spirit."[5]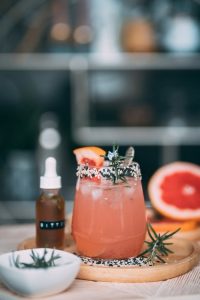 And since the days of the first Brandy Crusta , cocktails have been rimmed with more than sugar and then salt, in the Margarita's case. Rimmers range from chili powder, ginger-salt, Tang, and spice rubs,[6] to crushed candy and chocolate nibs, right up to edible glitter and flowers.
After the Brandy Crusta came the Sidecar in London, circa World War I. Curtis notes that: "It didn't appear in British cocktail books until around 1922, during American Prohibition, and it didn't get adorned with a sugar rim until 1934, in recipes in three books published that year. (This also happened to be the year after repeal, so in another fit of baseless speculation, let me posit that Americans required the extra sugar to ease back into the habit of stiff drink.)."[7]
Making note that the sugared rim may have been a buffer for some drinkers to make the alcohol more palatable is echoed if we venture further back into the history of the cocktail. American cocktails are comprised of "spirits, water, sugar, and bitters" and was actually at least partly inspired by British punches—big bowls of spirits mixed with fruit juice, spices, and other flavors, consumed in punch houses in the 18th century."[8] Before this, the first written mention of punch came on "28th September 1632 by Robert Addams who was stationed in India and worked for the British East India Company."[9] Leora Pezarkar writes in "Punch: History in a Bowl," that the name punch "comes from the Sanskrit word panch which means five. This stands for five elements—strong, weak, bitter, sour, spice or more specifically alcohol, water, sugar, citrus, and spice that make up the flavor profile of the punch."[10] In 1638 German factory manager Johan Albert de Mandelslo recorded that the Indian workers made "a kind of drink consisting of aqua vitae, rose-water, juice of citrons and sugar."[11] To this day in South India there is "still a tradition" of offering guests at weddings and temples a drink consisting of our now familiar song of ingredients: citrus juice, sugar, peppercorns, spirits, and water. Popular in the villages it is "offered widely […] during peak summer" as a way to combat the heat.[12]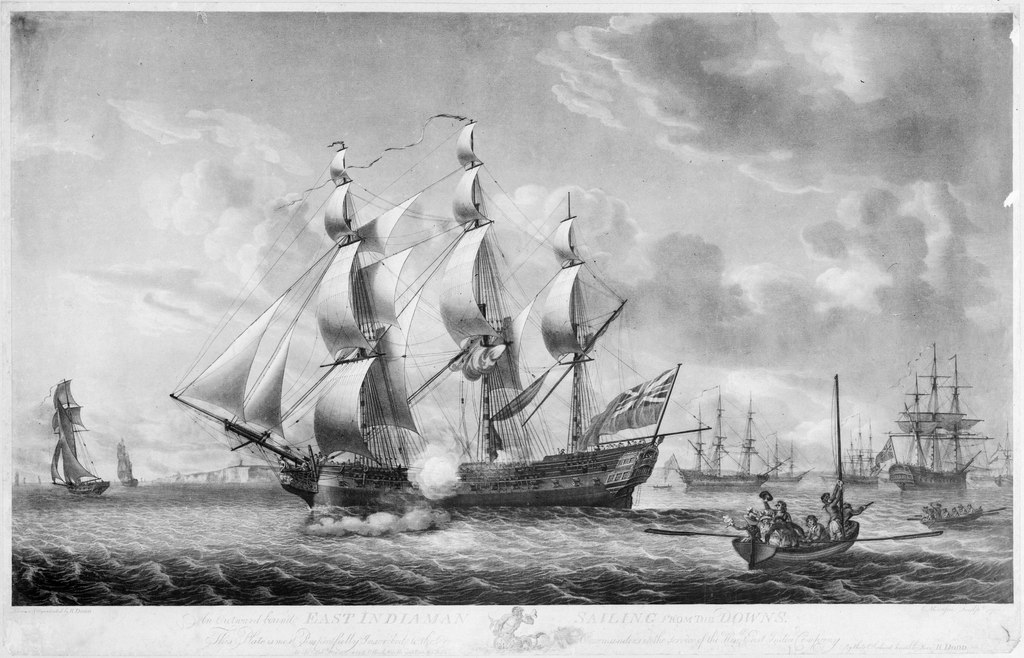 During the time of the British Raj, sailors aboard ships from the British East India Company were given a "daily ration of ten pints of beer each. But beer had a tendency to spoil in the tropical heat. Upon reaching land, they turned then, to the ingredients they could find locally, like citrus fruits, spices and rum […] to make the best of the spoilt beer."[13]
In a similar vein, Simon Difford writes in his article, "The History of Punch," that "[p]unch emerged as a way of taming rum,"[14] because the alcohol being produced was not so refined as it is today. Added to this is the backdrop of diseases at the time: "In 1688, the most common causes of death were; cholera, dysentery, E. coli and typhoid to just name a few, which are all water-borne pathogens. At the time they used the daily consumption of alcohol as a preventative."[15] Not to mention that the "citrus in the punch protect[ed the sailors] from scurvy."[16] So whether it sprung from the desperation of sailors or the living culture they encountered once they set foot on land, or a combination of the two, punch as a mixed drink was taken back to England's aristocrats.
For a time punch celebrated its heyday before declining in popularity, until the communal punch bowl was reimagined as an individual cocktail glass. And similarly the cocktail rim has fallen out of fashion and resurfaced in the ebb and flow of tastes and trends. But returning to Santini and his Brandy Crusta, two New Orleans bartenders, Nick Detrich and Chris Hannah, have recently opened a new Jewel of the South "dedicated to the spirit and memory of Santini," who Detrich describes as "a flamboyant barman".[17] Flamboyancy imbued with playfulness is where ornamentation can exist as a gateway to pleasure, engaging the senses with something as simple as taste and texture. Mixologist Tony Abou-Ganim very rightly observes of the decorated cocktail glass: "They can be just silly […] But sometimes people like things that are silly."[18]
by Nadia Ragbar
---
[1] https://www.bonappetit.com/story/adrienne-maree-brown
[2] https://www.seriouseats.com/cocktail-101-how-to-rim-a-glass-salted-rim-bartending-technique
[3] https://imbibemagazine.com/the-complicated-appeal-of-the-rimmed-cocktail-glass/#:~:text=According%20to%20popular%20convention%2C%20the,the%20same%20year%20he%20opened.
[4] ibid
[5] https://punchdrink.com/articles/time-to-ditch-sugar-rim-crusta-cocktail/
[6] https://www.foodandwine.com/drinks/6-ways-rim-cocktail-glass
[7] https://imbibemagazine.com/the-complicated-appeal-of-the-rimmed-cocktail-glass/#:~:text=According%20to%20popular%20convention%2C%20the,the%20same%20year%20he%20opened.
[8] https://vinepair.com/spirits-101/history-of-the-cocktail/#:~:text=Cocktails%20are%20traditionally%20thought%20of,in%20the%2018th%20century.
[9] https://www.diffordsguide.com/g/1129/punch-and-punches
[10] https://www.livehistoryindia.com/story/living-culture/punch-history-in-a-bowl
[11] https://www.diffordsguide.com/g/1129/punch-and-punches
[12] http://kitchentantras.com/paantash-panakkam-fruit-punch-ancient-indian-drink/
[13] https://www.livehistoryindia.com/story/living-culture/punch-history-in-a-bowl
[14] ibid
[15] https://brend-hotels.co.uk/blog/history-of-cocktails#:~:text=Cocktails%20may%20be%20considered%20an,Cooling%20Cups%20and%20Dainty%20Drinks.
[16] https://www.diffordsguide.com/g/1129/punch-and-punches
[17] https://www.nytimes.com/2018/12/03/dining/drinks/cocktails-new-orleans-brandy-crusta.html
[18] https://punchdrink.com/articles/time-to-ditch-sugar-rim-crusta-cocktail/