Every rose that is sweet-scented within,
That rose is telling the secrets of the Universal.
–Rumi
Playfulness and a bit of silliness can be the path to freedom of expression and agency, and so too aesthetic pleasure and beauty. Is there anything more symbolic of beauty and romance than June's birth flower, the rose? A flower that, classically, has captured the imagination of poets; its colours symbolizing everything from courage, and reverence, to sympathy, and secrecy.[1] Flowers can add so much to a table whether bouquets, table centers, and decorative flourishes but to add rose as an ingredient in a dish can add an element of creativity and whimsy. There is something so rarified and enchanted about edible flowers; the domain of dainty woodland creatures and fairies at twilight, existing on a diet of dewdrops and rose petals.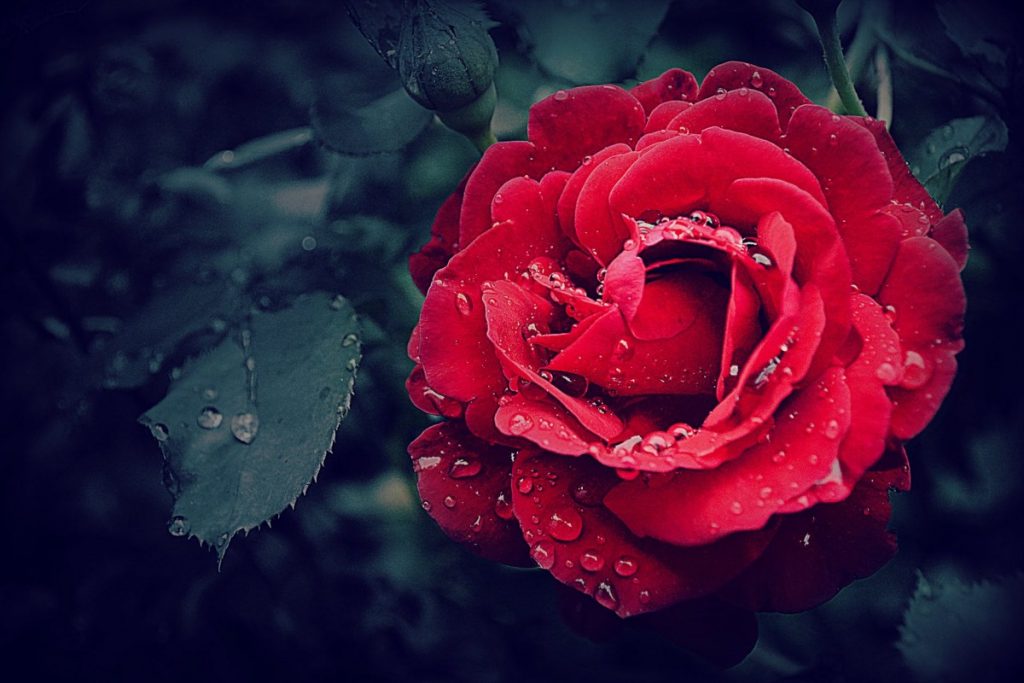 What seems so novel, as using flowers for flavour, had been in widespread practice in many ancient kitchens: "The culinary use of flowers has existed in almost all ancient cultures. The Romans used violets and roses as purees and in omelettes to give more flavour. The South American Aztecs and Mayans frequently cooked with edible flowers. The Chinese used edible flowers for medicinal qualities to improve health. Also during Victorian times, culinary activities often involved the use of edible flowers."[2] However, as society moved to industrialize food production it became too difficult to commercialize edible flowers for widespread consumption and as a result we do not see flowers used as regularly[3]  as spices are in Western cooking, though they may appear in desserts and other sweet dishes, pairing well with "honey, dried apricots and saffron as well as summer fruits like strawberries and raspberries."[4] But flowers, roses in particular, have been found on Earth as far back as 40 million years according to fossil records, predating human civilization.[5] Part of a "large botanical family[, roses] are related to almonds and cherries," [6] and any of the more than 200 species of roses can be used for cooking as long as they are free from chemical treatments.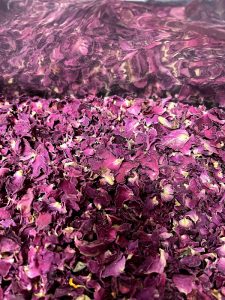 The rule of thumb is that the more fragrant the bloom, the better the flavour: "Used raw (stirred into syrups or cocktails), the flavo[u]r [of rose water] is very floral and aromatic. When baked or roasted, that flowery essence mellows out, imparting notes similar to vanilla, with a fruity, more subtle aroma."[7] Typically it is the buds, petals, and hips (fruits) that are used, but even the leaves are edible.[8] Cooking with rose is "fairly common in Middle Eastern cuisine as well as some Indian dishes […] The North African spice mix ras el hanout incorporates dried rose petals as well as other savoury spices like coriander, cumin, turmeric, pepper clove and cinnamon. Spice mixes with rose can make an excellent dry rub for poultry, lamb and other meats.[9]
As mentioned earlier, in ancient China roses were used for their medicinal benefits, used to regulate life energy, qi, and as a potential remedy for digestive problems, fatigue, mood swings and irritability, as well as menstrual cramps and menopausal symptoms. Additionally, rose petals are a good source of vitamin A, C and E, iron, calcium, and antioxidants, and "research also shows that rose tea's aroma may reduce stress and anxiety."[10] In an article for Saveur magazine, herbalist Christine Buckley, explains: "Medicinally, we use the entire plant, from root to thorn. All parts of it are wound healing: from external wounds to internal wounds to spiritual wounds (like a broken heart, for example)."[11]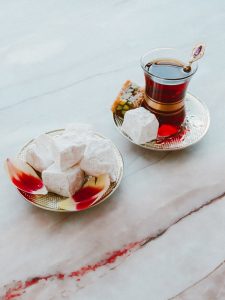 Once you open to the possibility of cooking with roses, the inspiration is endless beyond the jeweled Turkish delight: from tea and lattes and cocktails, to jams and butter, cakes and cookies, salads and even pickled rose petals,[12] forgetting not the savoury side including lamb chops, stews, and roasted chicken.
But to use rose water is to exercise restraint—too much and it overpowers the dish, leaving you with something reminiscent of a fussy potpourri. But a light touch can impart something exquisite and beguiling in its subtlety; that very essence of poetry to your plate and palate.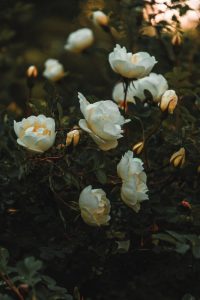 Come out here where the roses have opened.
Let the soul and world meet.
–Rumi
by Nadia Ragbar
---
[1] https://harlowgardens.com/symbolism-and-meaning-of-roses/#:~:text=Meaning%20of%20Rose%20Colors&text=The%20red%20rose%20symbolizes%20romance,and%20joy%2C%20and%20new%20beginnings.
[2] https://www.sugarandspace.in/history-of-edible-flowers/
[3] ibid
[4] https://www.odealarose.com/blog/complete-guide-edible-flowers/cooking-with-roses/
[5] https://homegardenandhomestead.com/garden-roses-queen-of-edible-flowers/
[6] https://morningchores.com/growing-edible-roses/
[7] https://www.epicurious.com/ingredients/how-to-cook-with-rose-water-article
[8] https://moonandspoonandyum.com/rose-recipes/
[9] https://www.odealarose.com/blog/complete-guide-edible-flowers/cooking-with-roses/
[10] https://www.webmd.com/diet/rose-tea-good-for-you
[11] https://www.saveur.com/cooking-with-roses/
[12] ibid